Human Rights and Covid-19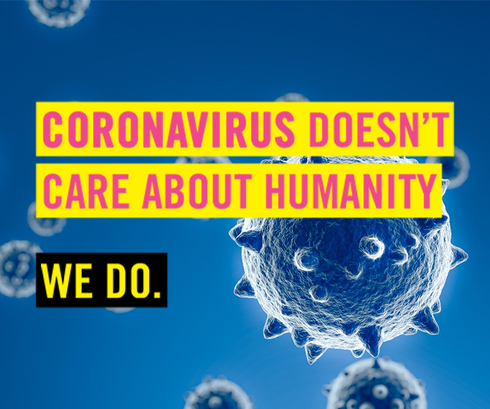 "It is essential that governments remain vigilant against racist, xenophobic or stigmatising acts, and provide wide access to unbiased information on the public health situation, availability of services, and the measures undertaken." -
Dunja Mijatović, the Council of Europe Commissioner for Human Rights
Coronavirus cases have been ramping up throughout the major parts of the world for the last two months. The virus has botched up every sphere of life.
Health systems of approximately all affected nations have been collapsed which are being exposed badly and unfit to provide the basic right to health to their citizens. No vaccine has been found yet to mitigate the effects of coronavirus for rapid recovery.
Human Rights Watch is committed to reporting on the human rights dimensions of the COVID-19 pandemic.Their research has identified 40 questions to guide a rights-respecting response to this crisis that addresses the needs of groups most at risk, including people living in poverty, ethnic and religious minorities, women, people with disabilities, older people, LGBT people, migrants, refugees, and children.
They have also identified a large variety of responses to the crisis, some of which are positive and others problematic. Positive examples are not intended as prescriptive measures for governments to adopt, but rather as evidence of policy choices open to governments that seek to take their human rights obligations into account. The inclusion of an example should not be taken as an endorsement or critique of that government's entire approach to addressing the crisis, or its human rights record in general.
Government officials in Belarus, Brazil, Burundi, China, Mexico, Myanmar, Turkmenistan, the United States, and Zimbabwe have exhibited disturbing denialism about COVID-19, depriving their publics of accurate information on the pandemic. In India, authorities have done little to curb the spread of viral disinformation which claims that the minority Muslim community is deliberately spreading COVID-19. In contrast, United Kingdom police forces are reported to have launched investigations into similar efforts to smear Muslims there. In Bangladesh, Cambodia, China, Egypt, Ethiopia, Turkey, and Venezuela, journalists and others have been arrested and detained for reporting on or expressing opinions about COVID-19 on social media. Egypt and China have expelled journalists. In Bolivia, authorities have used COVID-19 as a justification to threaten political opponents with up to 10 years in prison for spreading "misinformation." In China, outrage over the reprimand of a whistleblower led to a rare apology from the local police.
Corona Pandemic in the USA
"COVID-19 is an unprecedented health crisis, but governments must not use the virus as cover to introduce invasive or pervasive digital surveillance," said Deborah Brown, senior digital rights researcher at Human Rights Watch. "Any surveillance measures must have a legal basis, be narrowly tailored to meet a legitimate public health goal, and contain safeguards against abuse."
Human Rights Watch has found that the governments in China and Russia are expanding their surveillance capabilities and restricting rights in ways that are not justified on public health grounds to counter the spread of COVID-19. Public health authorities in the United States are also working closely with the private sector to aggregate and analyze vast pools of data about people's movements, in a bid to gain insights into how the virus is spreading and assess the effectiveness of public health interventions. However, those large datasets often do not fairly represent communities, especially people living in poverty and other minorities.
For people who are homeless or living in informal settlements, self- isolation, social distancing, and other protective measures are extremely difficult if not impossible to stick to.
The COVID-19 crisis has shone a spotlight on the importance of the rights to adequate housing, water and sanitation. These rights are critical for protecting oneself from the virus, for stopping its spread and also recovering from it.
At a minimum, governments should ensure that people who are homeless, including children in street situations, are provided with emergency accommodation where they can protect and isolate themselves. Governments must also put in place measures to make sure no one is made increasingly vulnerable to COVID-19 because of a lack of housing - for example by being evicted if they can't pay rent or mortgage.
Governments must also urgently put in place adequate, affordable and safe water and sanitation facilities that are accessible to everyone who is homeless or living in inadequate housing.
Stuart Malcolm, a doctor with the Haight Ashbury Free Clinic, walks by a supportive sign on a boarded-up shop while speaking with homeless people about the coronavirus in the Haight Ashbury area of San Francisco on March 17, 2020.




Amnesty International has expressed concerns over the violation of human rights in the fight against the global epidemic. According to the Regional Director at Amnesty International,

Nicholas Bequelin

, "Censorship, discrimination, arbitrary detention and human rights violations have no place in the fight against the coronavirus epidemic."




Quoting

Yuval Noah Harari, "

Humanity needs to make a choice. Will we travel down the route of disunity, or will we adopt the path of global solidarity? If we choose disunity, this will not only prolong the crisis, but will probably result in even worse catastrophes in the future. If we choose global solidarity, it will be a victory not only against the coronavirus, but against all future epidemics and crises that might assail humankind in the 21st century."




Digital technology could help in combating this pandemic and keeping people safe, but only if governments follow human rights rules when using these tools.










Article written by: Millena Ferraz